For the first time ever, pee-wee football players, an entire team to be exact, has been signed to the NFL. In a questionable move late Saturday evening, Jacksonville Jaguars head coach Jack Del Rio opted to cut his entire team and instead sign, "The Marauders", a pop-warner team from the Jacksonville metro area. Due to the late timing of the decision the team did not have sufficient time to print new jerseys with the correct names on them. As a result, the tiny tikes donned the jerseys of their professional counterparts, filling them out surprisingly well.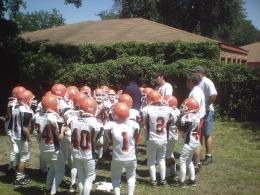 "The Marauders" after their Saturday Pop-Warner game.
"I just felt like it was time for a change. I have been thinking about doing this for a number of weeks now and late last night my gut told me that the time was right.", says Del Rio.
When asked of the wisdom behind picking little league players as opposed to free agents, players from the practice squad, college players, or even high school players Del Rio stared off into the distance, slowly shook his head and said, "I don't know. It just felt right."
But the decision wasn't popular across the board. Star running back, Maurice Jones-Drew, told press in an interview after the game Sunday that, "I feel that it was a horrible decision. If we were playing poorly I could understand it. But we are coming off two big wins and have good momentum. Now you have kids out there, wearing our names, and performing poorly. Not only does that reflect poorly on the team, but since they are using our names it reflects poorly on us."
"Jones-Drew", being filled by 5′ 6″ Jamal Jackson, age 13, posted a paltry 34 yards rushing over 12 carries. The real Jones-Drew declined to give in depth commentary on the performance of the youngster, only saying that he was proud that the "little guy" was able to get that much against a professional team.
The decision ended up costing the Jaguars the game and has led many to wonder, even further, if this will be the last year we will see Del Rio in the greater Jacksonville area.
Long time fan, Jason McDonald, sent an email to local press saying, "I love this team and I think they were headed in the right direction. I've always thought that Del Rio did a good job and that the rumors lately of him being released have been unfounded.", going on to say, "but I'm not so sure about the latest decision. While a certain part of the crushing loss can be attributed to the team and their lack of performance, you can't entirely discount the coaching staff and their responsibility."
McDonald goes on to say that, "I will continue to be a fan, as will many others. It is just hurts to proudly wear my team's colors only to see them have their ass handed to them by a team with no wins. Had they at least scored a point, it wouldn't have been as bad. I will stick with them but really hope that they can turn things around for the rest of the season."