This is my graduation gift to myself. It is a Junior Emperor Pen made out of Walnut Burl. I have wanted to make a high end pen for a while now and this was the perfect opportunity. I get a nice graduation "gift" and a chance to test the waters on the high end supplies. It is kind of hard to see, as I am still working on getting my photography skills as good as my turning skills, but the top, bottom, middle band, and clip are all engraved with designs. There are plusses/crosses on the middle band, a series of shapes on the top and bottom bands. The top/bottom of each end is engraved as well. You can see a much better picture of the actual pen hardware here.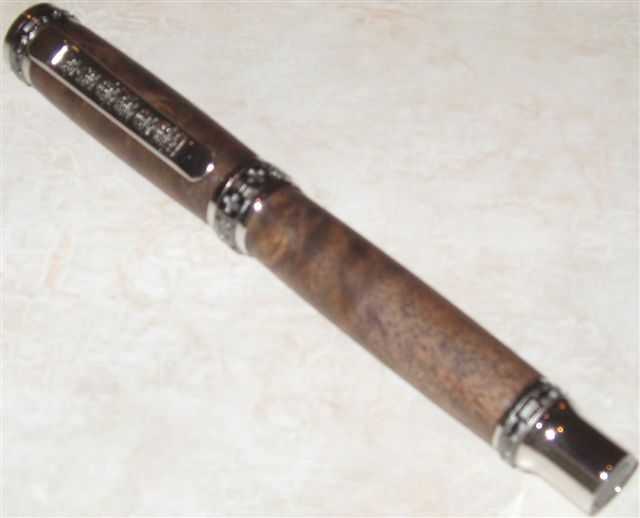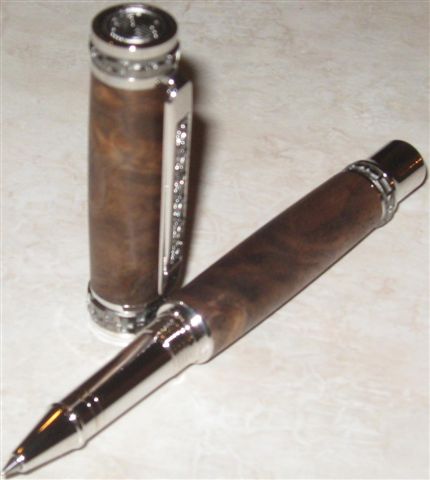 This one is mine but if you are interested in a pen for yourself, contact me. This exact pen would run in the neighborhood of $80-$100 for roller ball (shown) and $100-$120 for fountain, however I have pens that start as low as $25-$30. Price ranges will fluctuate depending on how cheap I can get supplies.
Contact me for a free quote if you are interested in a hand crafted wooden pen for yourself.