TENTATIVE SCHEDULE FOR FUTURE POSTS:
PART 6: WOOD BENCHES
PART 7: PREPARING ELECTRICAL AND PLUMBING
PART 8: COUNTERTOPS
PART 9: FIREPLACE FINISHING
PART 10: EQUIPMENT INSTALLATION
PART 11: PERGOLA
Pavers
In Part 1 we covered the basics of coming up with the design, rough planning materials, and determining space. In Part 2 we covered how to prepare the ground for foundations, running any underground conduit needed, and pouring foundations. In Part 3 we covered how to lay concrete blocks and foundations. Now we'll talk about how to lay pavers.
As a recap, for our outdoor living space we settled on an outdoor kitchen, gas fireplace, two sitting walls, and a pergola. The fireplace top serves as the 4th pergola post and sitting walls link the fireplace to the two adjacent posts. The three posts are then wrapped in decorative stone a little higher than each seat. See Part 1 for the rough drawing.
planning
The first step is ensuring you know how you want your pavers laid out and the pattern. This needs to be done well before you order your pavers as different layouts will result in more or less cuts and directly affect how much material you order. This also affects what pavers you choose as different styles will come in different sizes, colors, and finish options.
For our project we opted to go with a bluestone concrete composite paver that came in 24″x24″ and 12″x24″ sizes. We ordered enough to complete the project based on the original layout using a basketweave pattern.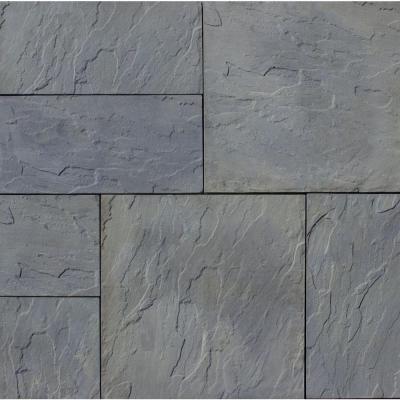 Stone we chose with basketweave pattern.
Once the stones arrived we did a dry layout to determine where we wanted the lines and orientation. Do they by starting in the center and working out. Just place enough to get a basic feel for how things will lay out when done then mark your lines. It is important during this step to ensure that your angles are perpendicular and that your lines are straight.
In our case we laid the rough form out and decided we didn't really like the basketweave pattern and wanted to modify it to have a 3rd size paver, 12″x12″. We also decided to extend the area behind the bar to allow more room to walk once barstools are there, which required ordering more stones.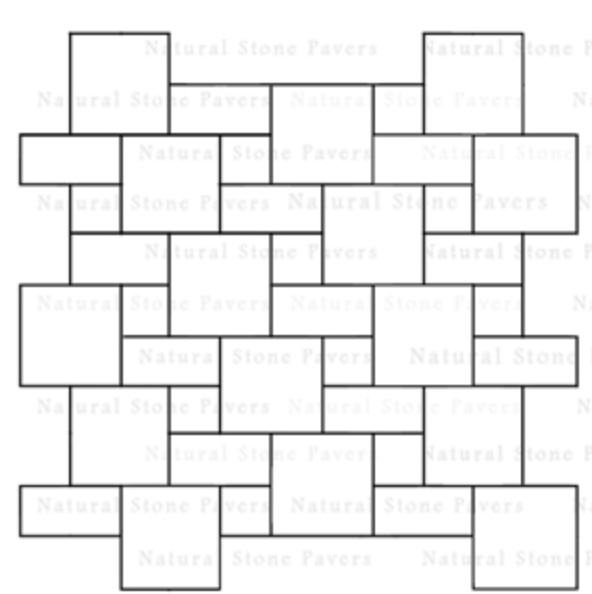 Pattern we decided to go with. Image from NaturalStonePavers.org.
Base preparation
To prepare for the pavers you'll need to excavate to allow for 4-8″ of gravel and paver base, plus the height of your pavers. In our case we will have light foot traffic only so we have roughly 4″ of gravel, 2″ of paver base, then stones just shy of 2″ thick. If you plan to have vehicles, hot tubs, or other very heavy things on top of your pavers you'll want to research to ensure that you have the appropriate depth. Note that in places where the ground freezes you'll also need to research to ensure your project can hold up to temperatures.
We had a concrete slab where the existing, poorly graded, patio was so had to start by removing it. For this and part of the paver installation we decided to hire people (though we ended up having to finish half of it ourselves when, after 6 months, the company had still not completed the project and wasn't showing up). It isn't particularly complicated work but is extremely labor intensive and was a good candidate to outsource.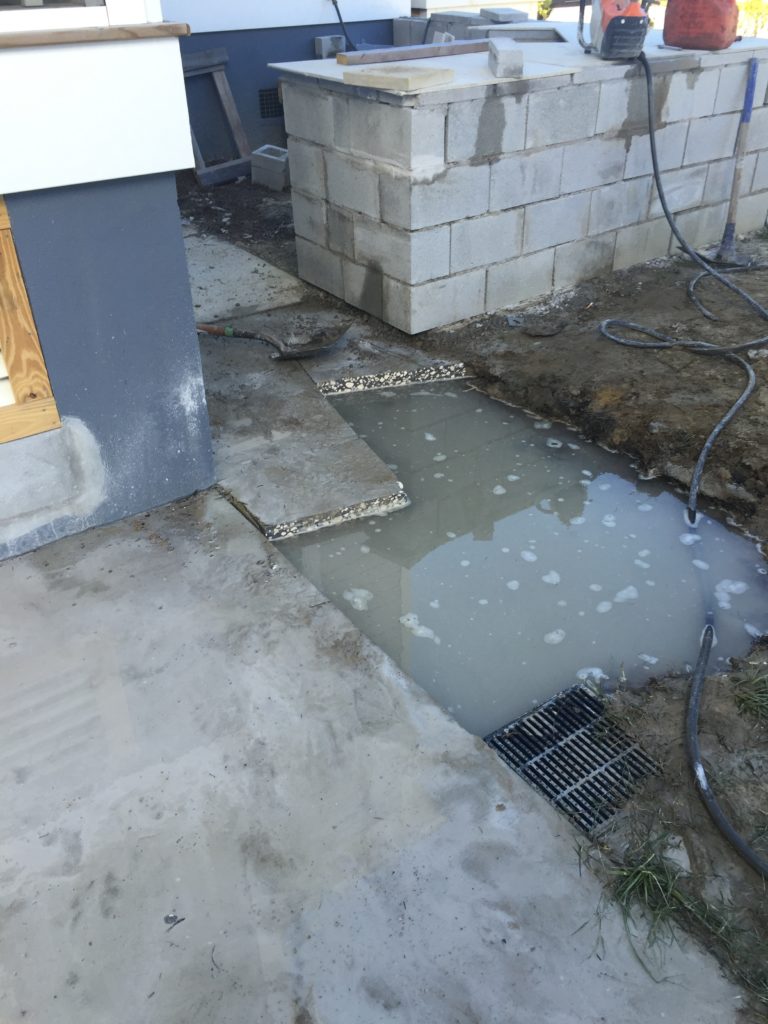 Concrete being cut into sections and removed.
Once all concrete was removed we were able to excavate the remaining area and fill with gravel then paver base. It is extremely important for this to be well compacted. Poorly compacted bases will result in stones that shift and sink over time, leaving you with a ton of work to get back to a solid surface. For small jobs you can purchase a hand tamper – basically a large, flat metal piece on the end of a pole. This is physically exhausting for more than very small areas but does work. The better option for most DIY projects is to rent a tamper from a local vendor.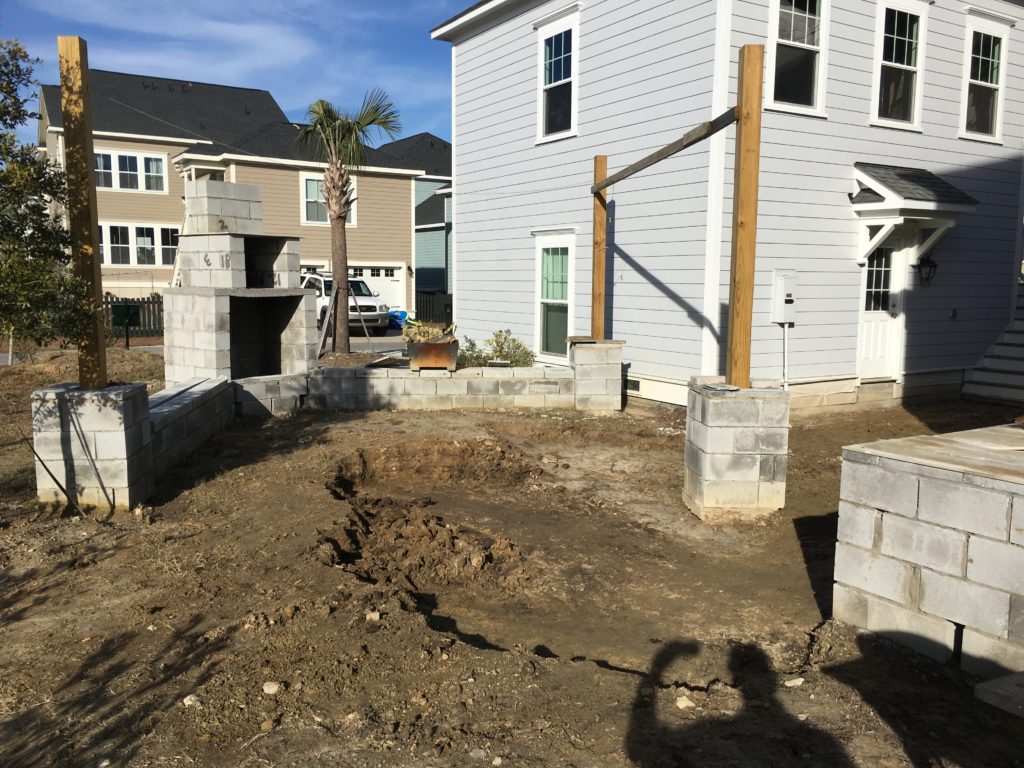 Excavating yard to 8″ depth, in preparation for gravel and paver base.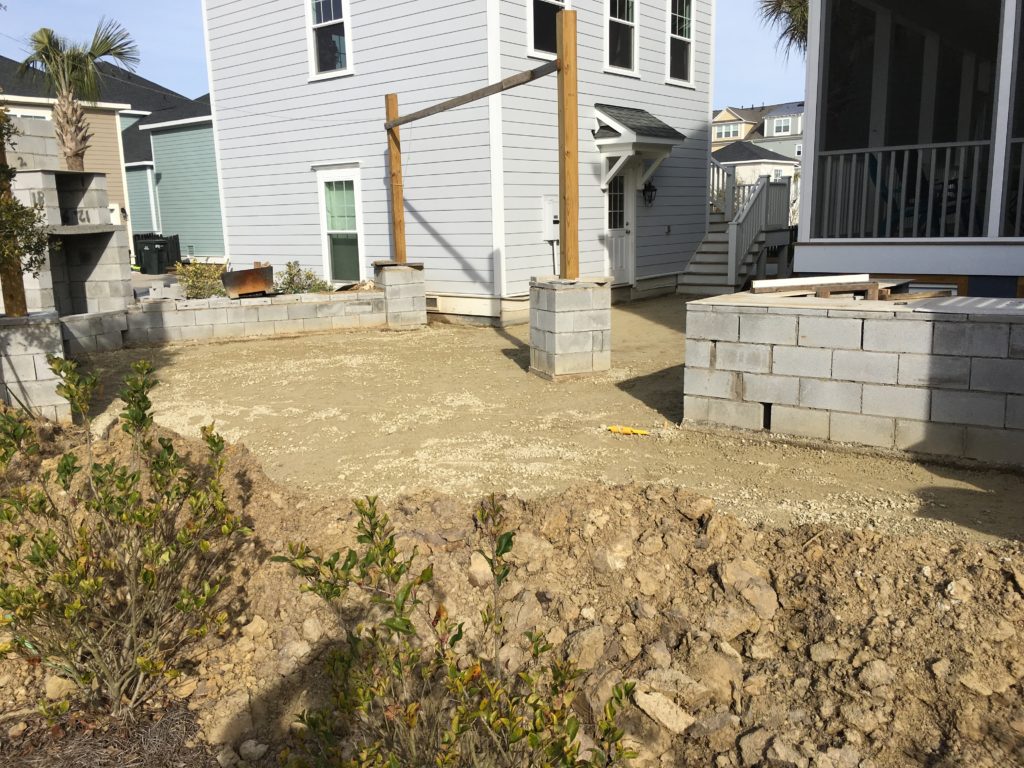 Backfilled, leveled, and tamped. Lower layer gravel, upper layer paver base.
Once you have your surface graded and tamped you are ready to start laying pavers.
Drains and other special needs
For our patio we need a drain as well. The entire reason we started this project was because the yard pooled water up against the house. If you have any special needs, like drains, you'll want to do them before you set your pavers.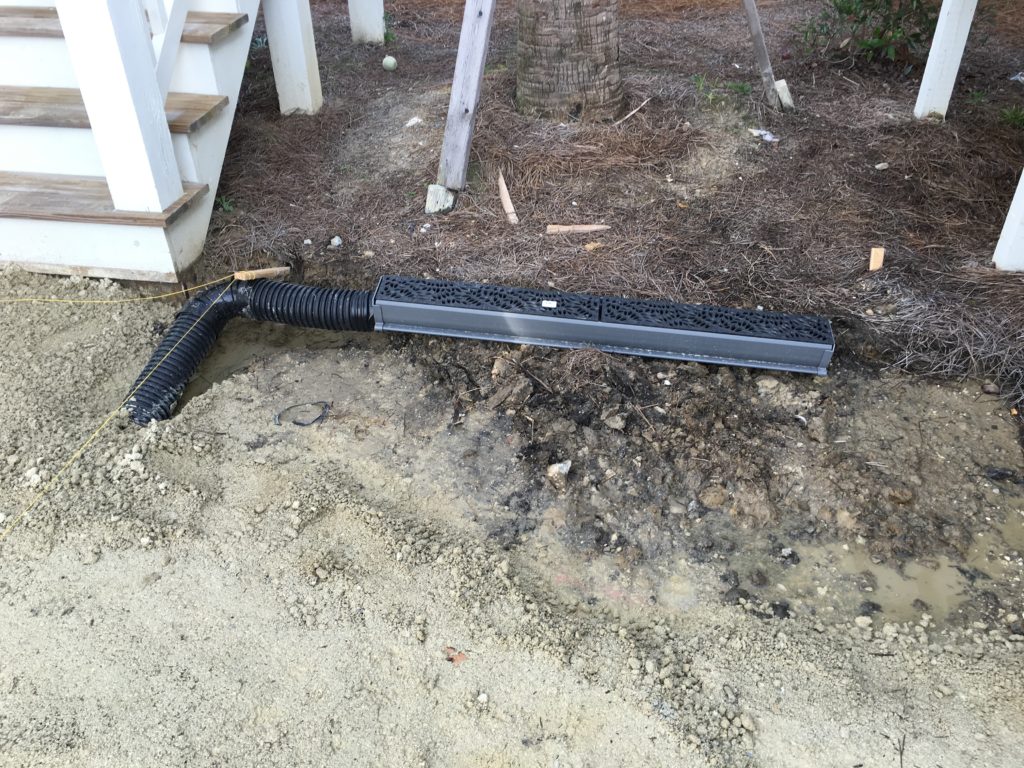 Drain being installed during base laying process.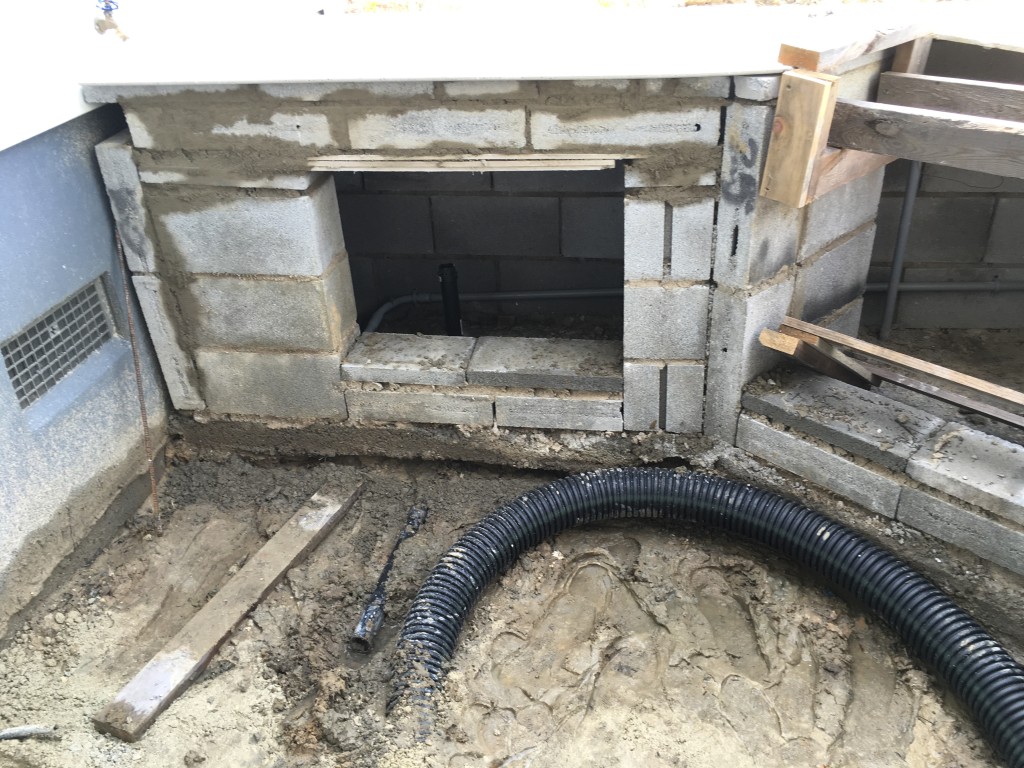 Drain for kitchen sink being laid during paver base process.
Pavers
The final step is to lay the pavers. Start by laying the first paver in the spot you marked in your dry layout then work outwards from there. To lay the paver sprinkle a handful or two of paver base loosely where you want the stone. Then lay the stone, ensure it is level, then tap it place with a rubber mallet. Then move on to the next one. Keep going until you get to the edges and cannot put a full stone down.
Note that you'll want a uniform surface under each tile. If you don't have this you'll notice the sand between pavers will start to disappear when it rains later – this is from the sand washing down to fill the gaps you left under the stone. If this happens just apply more sand in the joints.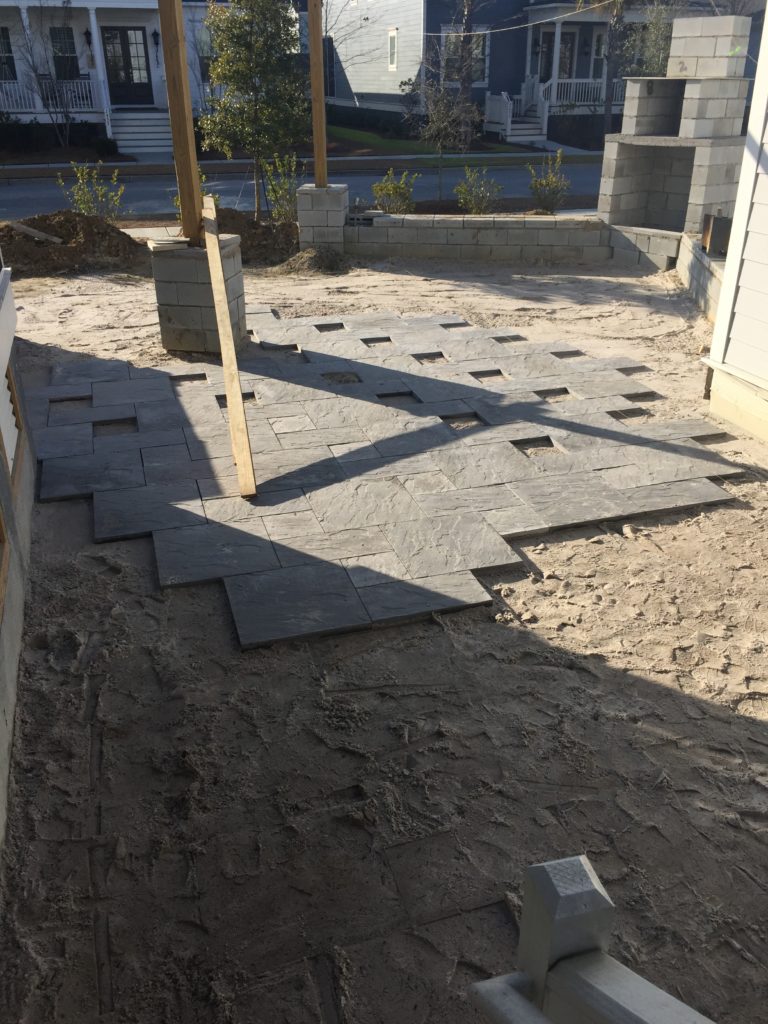 Pavers going down in final position. 
Edges
The edges will need to be cut to fit. If you have a layout that results in the edge being parallel to the patio edge there is a simple way to ensure you have the right cut. If you have a design that doesn't result in this search for the best way to ensure accurate cuts.
If you do have parallel edges take the stone that will go into the space and lay it so its edge lines up with the stones you had already laid down. This is the bottom tile in the image below. Then lay another stone, of the same size, on top of it and position it so that it goes all the way to the patio edge. This is the middle tile, the upsMark a line on the first stone then cut. The resulting piece should fit perfectly into the gap. Make sure you leave a little bit of room for gaps between pavers and any desired gaps between the edge of the patio and whatever it abuts.
This is illustrated in the image below. The bottom tile represents the stone that is already in place. The middle tile, the upside down one, represents the stone you want to place in the gap. The top tile is the one used to abut the patio edge so you can mark for your cut.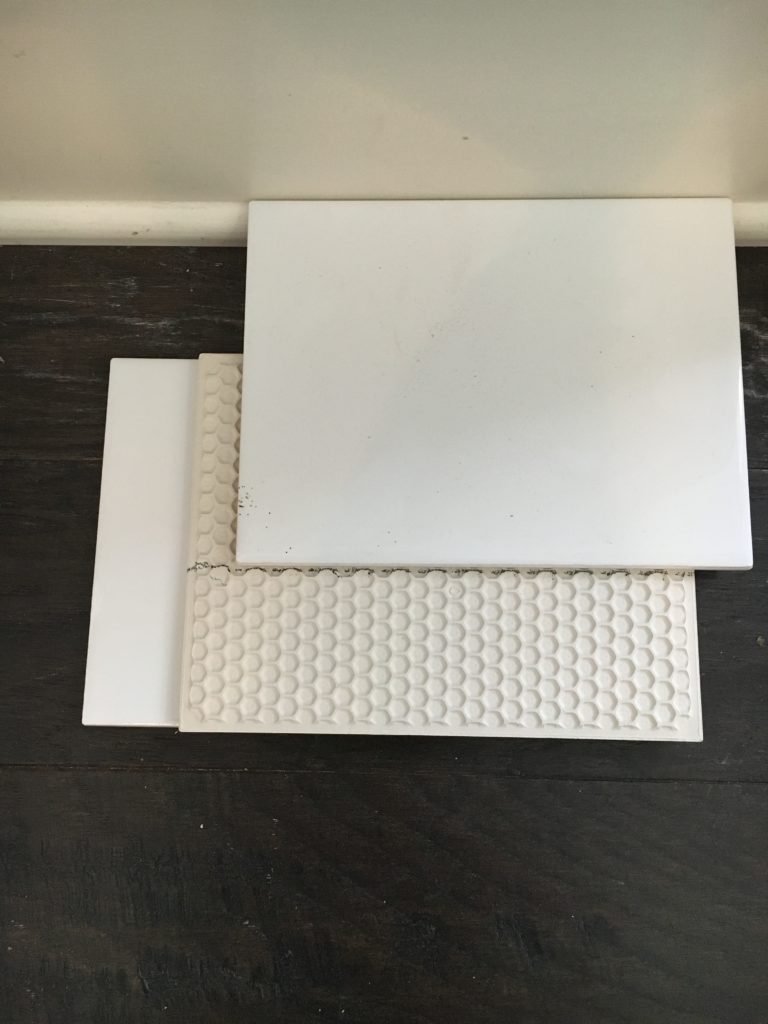 Illustrating simple measurement system for cutting edge stones.
Between pavers
Finally, once your pavers are down, either in part or whole, you need to fill the gaps. You'll see mixed opinions between using regular paver sand and using polymeric sand. Polymeric sand solidifies more like grout once it is set and is supposed to do a better job locking the stones together, preventing insects from getting underneath the pavers, and preventing weed growth between stones. I've used both and found that polymeric does a great job for a few months but still tended to crack and allow weed growth. Given the higher cost I typically just use paver sand now.
To fill the gaps put dry paver sand down over the set stones then sweep them into the cracks. You want to sweep to the point where the sand is uniform on all cracks and slightly below the surface of the paver. Once you have all of them in place you'll wet with a hose. To do this make sure you don't have a direct spray as it will simply wash the sand out. The goal is to get the sand wet without displacing it. I typically use the 'shower' setting and waive back and forth.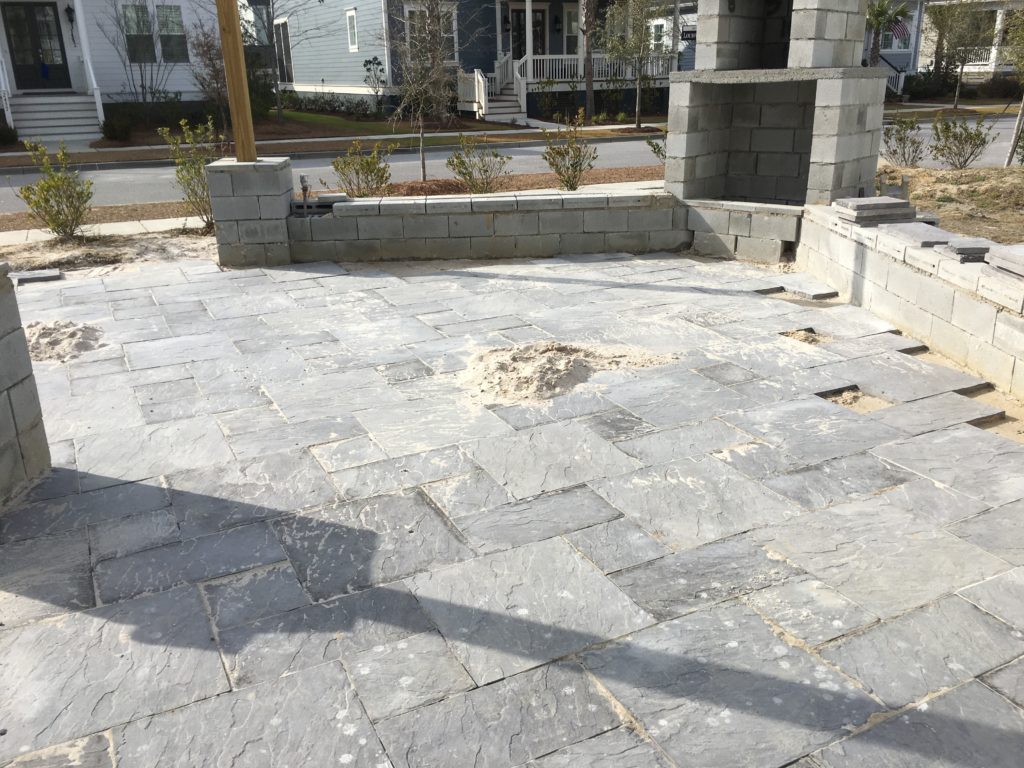 Piles of paver sand, ready to be swept into cracks.
Let the pavers dry then reapply where necessary. You can always do this again any time you have sand wash away or just need touch ups in areas.
Next installment we'll talk about creating the wood benches.
TENTATIVE SCHEDULE FOR FUTURE POSTS:
PART 6: WOOD BENCHES
PART 7: PREPARING ELECTRICAL AND PLUMBING
PART 8: COUNTERTOPS
PART 9: FIREPLACE FINISHING
PART 10: EQUIPMENT INSTALLATION
PART 11: PERGOLA