Where Have All the Leaders Gone?, by Lee Iacocca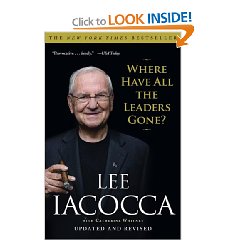 This was a really good book. I always find it interesting to see the thought process of some of the world's top leaders. In this book Iacocca discusses the basic tenets of leadership and how it has largely gone missing in the political environment of the United States. He starts off by beating everyone's favorite dog, President Bush. In this whipping he lays out basic concepts for leadership then shows where Bush or the Bush administration has failed to live up to the challenge. He moves on from the first chapter and lays into congress, the business world, and many other leadership roles. He gives good examples and bad as well as his thoughts on what could happen to improve our situation.
While I don't subscribe to all the ideas in this book it definitely has me looking at some things in a different light.
This is well worth the money and is a quick, fun read. Buy it.