Leadership: Essential Steps Every Manager Needs to Know, by Elwood N. Chapman and Sharon Lund O'Neil, was surprisingly good. When I first opened it up I must admit that I judged a book by its "cover" and thought that it would not be very good based upon its somewhat cheesy clip art like images. But I looked past the graphics and gave it a chance, which I am glad I did.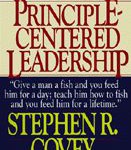 As with many leadership books, this one breaks the art of leadership down into a number of categories. In particular, this book defines the effectiveness of leadership as being the sum of visionary mission, decisiveness, application of mutual reward theory, effective communication, and power of influence, multiplied by a positive attitude. It goes on to explain in detail what each of these mean, how it can best be applied, and the different aspects of each. I found mutual reward theory to be particularly enlightening as I had yet to hear about this theory.
All in all, it is a good book and a rather quick read. While none of the content will revolutionize your career by itself, the information contained in these pages should help anyone identify where they can change to help bring their leadership to the next level.